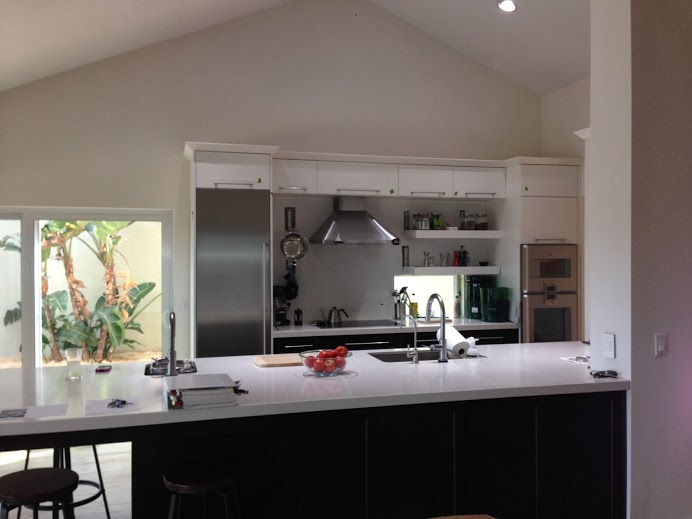 LEED Gold Certified
The Bluffs | Jupiter, FL
Bandon Blue Designs in conjunction with Kevin P. Carter Construction, has completed a Gold certified LEED for Homes redesign of a single family home in the Ridge Community of The Bluffs in Jupiter, FL.
The total square footage is 2,528 sf, with 1,889 square feet under air with a view of the preserve behind.
Year Built: 1985
Year Redesigned: 2013
LEED stands for Leadership in Energy and Environmental Design. LEED certification provides third-party assurance to owners and/or residents that their home complies with rigorous technical requirements for energy and water efficiency, indoor air quality, non-toxic materials, and environmental performance. Homes that are certified through LEED compete a technically rigorous verification process that includes a home energy (HERS) rating and onsite inspections. Developed and administered by USGBC, LEED for Homes awards points to projects in seven categories of environmental performance: Locations & Linkages, Sustainable Sites, Water Efficiency, Indoor Environmental Quality, Energy & Atmosphere, Homeowner Awareness, and Innovation and Design. To date more than 14,000 homes have been LEED-certified and over 35,000 have been registered and are under development. For more information, visit www.thegreenhomeguide.org.
The residents of this home moved to Florida after living in Arizona for eight years. They were familiar with both LEED and USGBC, so this was a natural progression from their last small scale ReGreen remodel. Both homeowners live and work at home so they wanted a healthy atmosphere that would translate into a healthy lifestyle. They understood that the benefits of LEED include everything from lowering their carbon footprint, in terms of electricity and water usage as well as waste creation, to knowing what they are and are not breathing in through their indoor air quality. For the couple, the best part of the process lies in the reduction of their carbon footprint and having the knowledge that their home is now free of toxins and other potentially harmful materials.
This project qualifies for the LEED for Homes Gold Certification based on the following criteria:
Innovation and Design Process
Location and Linkages
Sustainable Sites
Energy and Atmosphere
Materials and Resources
Indoor Environmental Quality
Awareness and Education
Innovation and Design Process
By using an integrated team approach, the project team consisted of the LEED provider, General Contractor, Interior Designer, Energy Evaluator and Homeowner. All team members were involved in an initial Design Charette to establish feasibility of the project and set project goals. The team also competed the Durability checklist which helps guide and insure the sustainability of the site and building. Strategies were developed to address durability issues like pest control, standing water on the site and renovation procedures within a LEED project. The project also qualified for a Innovative Design Credit, HO-05, with homeowner direct involvement in all phases.

Location and Linkages
The project site was carefully selected by the homeowners for being built above the 100 year floodplain, proximity to the beach and its outstanding community resources. The site is conveniently located within one half mile walking distance to over 14 community services including grocery, open space, retail shops, public schools and other conveniences. Residents are more likely to live near their workplace and shopping thus reducing or eliminating the need for a car and the expenses associated with it. In addition, since the homeowners both work from home, their costs related to transit shall be significantly lowered and the number and length of daily trips shortened.

Sustainable Sites
The project is fairly dense at 7 units per acre in an effort to conserve land and promote community livability. This was another attractive selling point for the homeowners for this site. Any invasive plants were removed from the existing landscape and any issues with standing water were eradicated. Erosion control measures were employed during renovation to protect site disruption. Drought tolerant landscaping was used to limit the need for irrigation. Being in a moderately high pest environment, pest control was also a priority. Diatomaceous earth barrier was employed at openings and cracks, joints and leaks were sealed with non voc/ non toxic caulking.

Water Efficiency
Indoor water use in this project was also a high priority once again trying to reduce the amount of potable water usage. The project was able to achieve points in water efficiency by installing very high efficiency fixtures and fittings. The average flow rate of lavatory faucets is <= 1.50gpm and the average flow rate for all toilets is <= 1.10gpf. In additional all fixtures meet EPA WaterSense specifications as well. The community the project is located employs a recycled irrigation system that uses from retention ponds that conserves water used for irrigation.

Energy and Atmosphere
Energy and how it is used was also a priority for the project team. The initial goal was to achieve a HERS (Home Energy Rating System) rating of 70 or better. Like golf the lower the score the better. Since this was a renovation and not new construction, there were limits of what could be achieved in some areas. All exterior windows and doors were replaced with low e tinted and impact rated glass units. Insulation was upgraded and HVAC ducts were changed from flexible to rigid with extra insulation. The HVAC system was also changed out to include an extra dehumidification program and non-HCFC refrigerants were used in the system as well. The system is also programmable and has MERV 13 filters for the air handler.

Materials and Resources
An important part of building and designing any LEED project is the materials and resources chosen and how the waste is diverted to complete the project. This project was able to divert nearly 95 percent of the demolition construction waste and over 93 percent of the construction waste was diverted from landfills. All interior doors were manufactured within 500 miles of the site which means less carbon footprint in delivery and transportation. Trim moldings were FSC certified wood and cabinetry, flooring and countertops were produced with recycled content which are environmentally preferred products. Windows and doors were also locally produced.

Indoor Environmental Quality
People in America spend, on average, 90 percent of their time indoors in unhealthy environments that are full of pollutants. Many Americans are just starting to understand the connection between their living environment and their health. A much better indoor air quality was very important in this project because of several medical conditions and life style choices of the homeowners. The central HVAC system equipped with additional dehumidification mode and intermittent ventilation. It also has MERV 13 air filters in the air handler. Occupancy sensors are included in bathroom ventilation and all ventilation goes directly outside. Shoe removal areas and storage spaces were designed near primary entryways to reduce particulates being introduced into the home. A central vacuum system with exhaust to outdoors was installed as well to help improve indoor air quality.

Awareness and Education
As part of this project, we were able to hold a USGBC Chapter meeting/presentation during the construction phase that was beneficial to attendees. The project team has also provided the homeowners with an operations manual and instructional operational walk thru of the completed project. Once the certification is complete the project will also be open for an additional chapter meeting and presentation as well as be featured in the local newspaper.

About USGBC
The U.S. Green Building Council is a nonprofit membership organization whose vision is a sustainable built environment within a generation. Its membership includes corporations, builders, interior designers, universities, government agencies, and other nonprofit organizations. Since USGBC's founding in 1993, the council has grown to more than 14,500 member companies and organizations, a comprehensive family of LEED green building systems, an expansive educational offering, the industry's popular Greenbuild International Conference and Expo (www.greenbuildexpo.com) and a network of 77 local chapters, affiliates and organizing groups. For more information visit www.usgbc.org.